IT'S THE STORY OF US ALL


1898 GATHERING OF ORIGINAL MEXICAN AND WHITE SETTLERS IN LOS ANGELES.
Original "Californio" Mexican citizen with later settlers, (Far R) California Republic Soldier.
1941 REUNION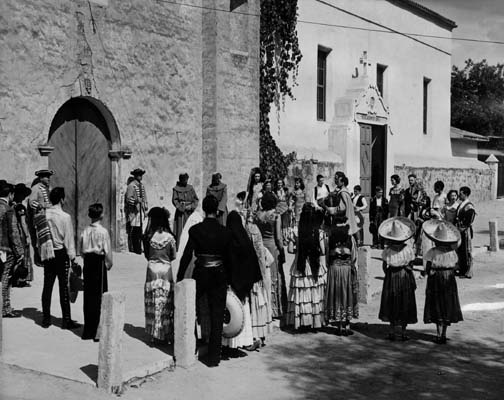 REUNION OF ORIGINAL MEXICAN SETTLER FAMILIES AT MISSION SAN GABRIEL
MIS PRIMOS: A Local Californio Family History A Short Film...
Until the early 20th century, the door to the United States was open to everyone, except the Chinese. But 8.8 million immigrants arrived between 1901 and 1910, leading to anti-immigrant sentiment. In the 1920's, Congress passed the National Origins Act creating a quota system based on national origins and meant to stop especially southern and eastern European immigrants and people of color, who were alleged to be racially inferior.
1912 KOREAN FARMER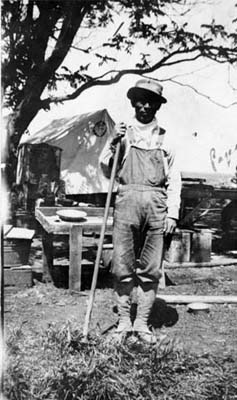 Only minor changes to immigration law were made for the next four decades. But the civil rights movement of the early 1960's put in focus the racist aspects of the National Origins Act. A complete overhaul of immigration law followed in 1965 when the quota system was ended and family reunification and needed skills were designated as the basis for entry. This 1965 legislation led to an enormous expansion of legal immigration from Asia, Latin America, the Caribbean and Africa.

Since the 1970's, "illegal" immigration has increased dramatically. Mexicans, historically in Los Angeles since the 1780's, and by treaty were given special legal accommodations, (by example: a bi-lingual education) They are employed for low wages during good times and then forced to return to Mexico when opposition to their presence grew, they are the largest undocumented immigrant group. Legal and illegal immigration since 1965 has changed the United States, spurring a social and political conflict about who can and should be an American.
Muslims, Jews, Christians, Hindus, Buddhists, Animists, they all came too.
1923 SYRIAN IMMIGRANTS COMING TO LA.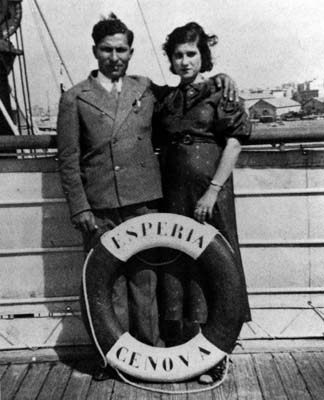 Their trip from Syria to LA was a long one. They had to catch a ship in Italy.
Immigrants have long come to the United States seeking economic opportunity or fleeing persecution. The question remains: who should come and how many. The contrast in U.S. policy toward Haitians and Cubans is striking. Many non-Socialist Cubans fled Cuba and were given refugee status when they arrived, while Haitians, who fled dictatorship and chaos, were more likely to be repatriated or imprisoned. California has one of the largest INS Prisons here in Southern California. Despite walls and seemingly insuperable obstacles, immigrants will continue to flee the terrible conditions in their home countries and take their chances in the United States. The debate will also continue about United States policy regarding immigration.

The First California Immigrants
1889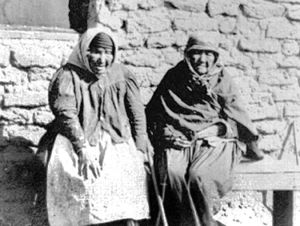 LOCAL GABRIELENOS (TONGVA) INDIANS
A TONGVA NATIVE SPEAKS OF THEIR HISTORY
"Tongva" means people of the earth, in our language.

The Tongva occupied the entire Los Angeles basin and the islands of Santa Catalina, San Nicholas, San Clemente, and Santa Barbara. From Topanga Canyon to Laguna Beach, from the San Gabriel mountains to the sea, we lived throughout most of what is now Los Angeles and Orange Counties. The existence of our people on these ancestral lands has been unbroken since long before the first contact between the Tongva and Europeans. Our ancesters were the people who rowed our remarkable Ti'ats (plank canoes) out to meet Cabillo in 1542 off what is now San Pedro." - Tongva Nation
Tooch Martin, American California Settler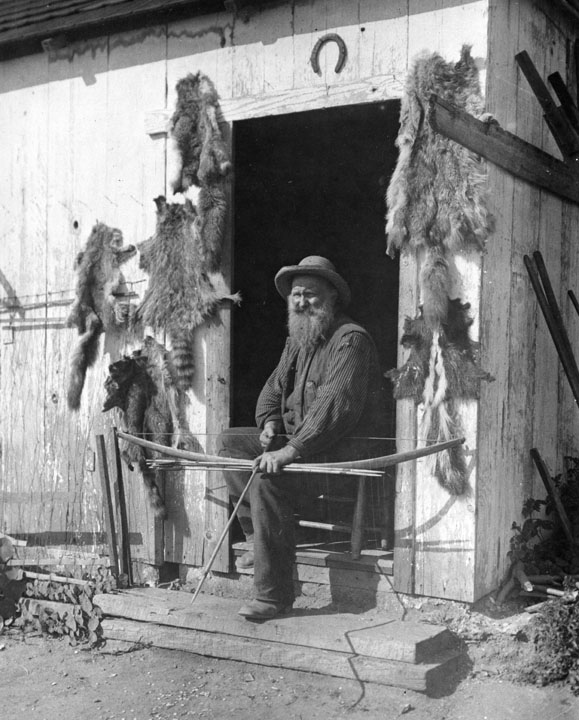 (R) TOOCH MARTIN: He was born October 8, 1844, and died in 1936 at the age of 92. He came to Los Angeles with his parents in 1853 from Texas. At age 18 he filed claim on 156 acres in what is now the northwest section of Claremont. His only neighbors were the Cahuilla Indians at their tribal encampment on the Indian Hill mesa. He is shown here wearing a beard and holding a bow and arrows. On the wall of the cabin are tacked various animal skins and a horseshoe. He lived in Palmer Canyon, and his son was the first white baby to be born in Claremont. From 1886 to 1890 he was a Los Angeles County Supervisor. - Ed.
African people came to Los Angeles with the Spanish settlers.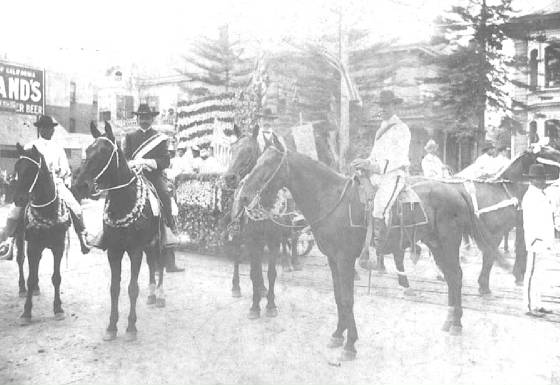 Downtown Los Angeles, c. 1888
Today and Then, We All Came to LA.



HIGHLIGHT PORTRAIT
Know the Truth
(Above) German immigrants Rebecca and Isaac Rubenstein
with their children Frances and Harold, taken on Venice Beach, 
circa 1924-1925. During this period, Jews were not welcome in 
Santa Monica, so the family would take the street car out from L.A. 
to Venice, sometimesrenting vacation bungalows during the week
and returning to the city for the Sabbath and weekends. 
Ocean Park was sometimes (and derogatorily) referred to as 
"Sheeny Beach" because of the many Jews. Yes, we are speaking of 
Los Angeles.
Our Faces and Theirs, All American Faces.
1890 DOWNTOWN STORE OPENED BY FRENCH IMMIGRANTS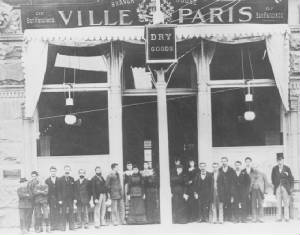 This was a branch store of the well known San Francisco store.
We are All the American Immigrant Experience.
So many more came...and your family did too!

WELCOME TO LOS ANGELES
YOU ARE HOME!
 Su casa
Sie sind zu Hause
Du er hjem
Vi ste home...