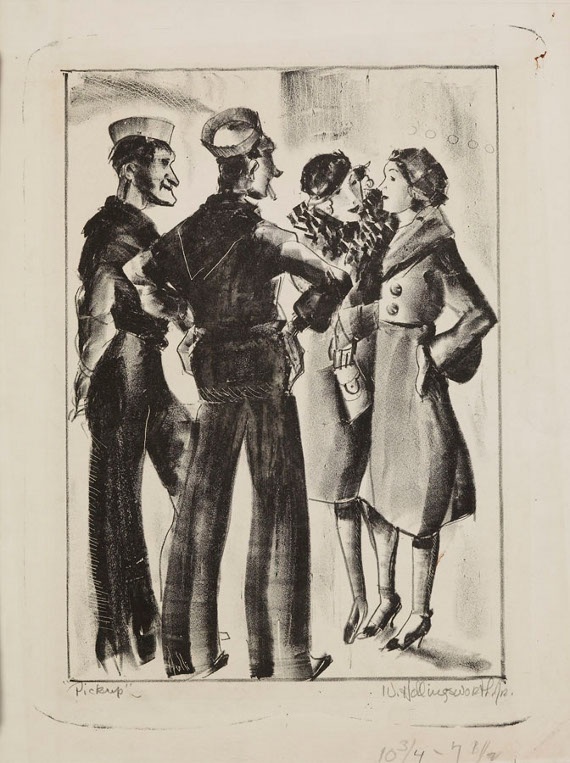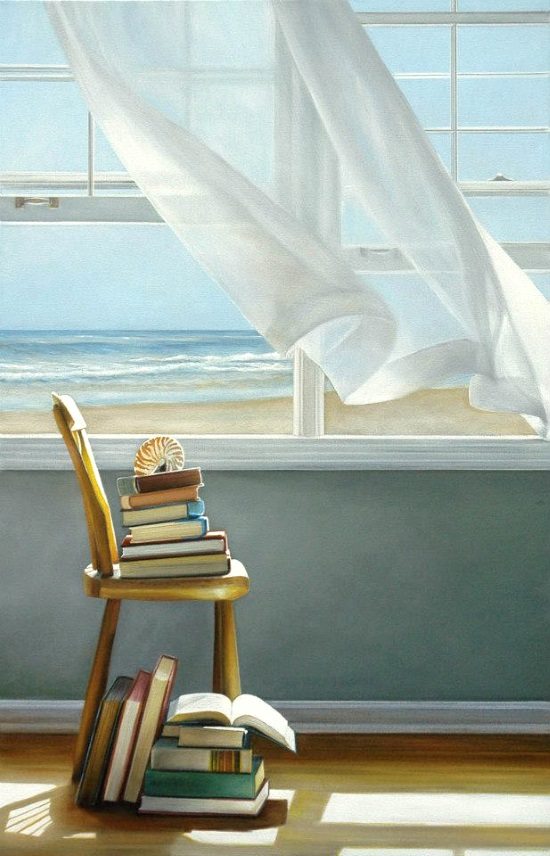 BIOGRAPHY
(Common Commons rights)
PART 1
When William Hollingsworth Jr. arrived in Chicago in 1930 his head was filled with a pragmatic, far-from-airy dream. As his chums back in his hometown of Jackson, Mississippi, trained for jobs as clerks, lawyers, businessmen, or engineers, he fancied success as a commercial artist.
He was a slump-shouldered, boyish fellow of twenty adept at cartooning. He had spent two years at the University of Mississippi as a general student, but he reasoned that his talent would shine brighter and his chances of finding a job as an artist would be bettered if he enrolled in an art school. He was accepted at the School of the Art Institute of Chicago. Charged with a beginner's zeal, he pitched his home-grown talents into serious study and the result was a promising transformation. His classes in painting and his growing passion for the masterworks hanging in the galleries of the Institute awakened him to fine art. It became his calling. Even if commercial art (magazine illustration, poster design, book covers, advertising agency work) became the source of his livelihood after graduation, he resolved to be a painter too.
A cherished Mississippi painter
Today, Hollingsworth is a fixture in the pantheon of southern art. Since his death he has been rediscovered repeatedly as new appreciators are enchanted by his paintings. Though he died before satisfying his own high aim of being a recognized original, the multitude of watercolors and oil paintings that he produced in the short span of a decade is an astonishing achievement. In select art collections, mostly in the South, his works are cherished as unique and masterly.
Although blessed with a talent to produce art that burns with dazzling imaginative vision, Hollingsworth himself was modest and unassuming. He looked like just any other ordinary guy. He was a little under six feet tall and dark-haired, but sallow and very thin. A bit shy, he had a scholarly appearance because of his gold-rimmed spectacles. Though remembered as "withdrawn," he was well liked among his set, and during school days in Jackson he was the known cartoonist in the crowd. His father once had financed a summer trip to Chicago so that young Hollingsworth could meet Cary Orr, the famous cartoonist of the Chicago Tribune.
Not only did the Institute wakened Hollingsworth's creative powers, but it was the place he met Jane Oakley. She too was a student, although enrolled in the school of design. She had more training and more skill, but she watched in astonishment as Hollingsworth quickly surpassed her.
"At first I was better than he was," Jane recalled, "but it wasn't long before Hollie was the star student. All of us admired his abilities and his work."
Jane's hometown was Moline, Illinois, and her outlook was northern, Hollie's decidedly southern. However, drawn together in their discussions of art, they grew close, fell in love, and married. A year later their son Billy was born.
Along with his creative gift, Hollingsworth had a strain of melancholy that cast him into dark moods. Jane understood him and tried to soothe and encourage him. This inescapable sadness tinges all his work. It peaked in the art of his prime.
An artist is born
At 1:00 a.m. on February 17, 1910, William Robert Hollingsworth Jr. was born at the family home, 754 North President Street in Jackson. When he was less than a year old, his mother (née Willie Belle Van Zile) died suddenly, and he was reared by his father and his elder sister Isabel, who was thirteen years older than her brother. William R. Hollingsworth Sr., with Fred A. Tyson, his son-in-law, headed a firm called Hollingsworth & Tyson Real Estate and Rental Agents. His offices were downtown in the Merchants Bank and Trust Building. The new residential development of Belhaven was among the senior Hollingsworth's projects.
Before Hollie's birth, his father had bought the North President Street house from the Mississippi School for the Deaf and made it a residence. A large dwelling with high ceilings and a two-story octagonal tower surrounded by a semicircular porch, it was situated a few blocks north of the state capitol and adjacent to North State Street, an avenue lined then with imposing mansions and elegant lawns. The house was demolished in the 1960s.
In early years Hollie attended Davis School, a block over. In a group picture of schoolmates he is the only child who looks like a waif. He was graduated from Jackson High in the class of 1928. Smith Park and the First Baptist Church, which the Hollingsworths attended, were nearby. Downtown Jackson was a short stroll from the Hollingsworth residence. So young Hollingsworth's world of school, church, movie houses, and parks was cozy and confined.
Rediscovery of black culture
Hollingsworth had hoped after graduation from the Institute in 1934 to work in Chicago, but heartsick over the impossibility of finding a place for himself in the big-city art world, he retreated to Jackson. In his melancholy Hollingsworth considered Jackson too provincial for his lofty aims. In his aspirations he gravitated toward two modern masters, Cezanne and Matisse, hoping to attain their high standard.
When Hollingsworth and his northern wife came to Mississippi as the Great Depression of the 1930s struck the nation, he rediscovered the culture of southern black people. To the west of the city of Jackson and separate from the mainstream, was the district of black neighborhoods and social life. Except as servants and laborers, black people were strictly segregated and kept apart from white society by social and political codes. This black culture theme developed into one of the mainstays of Hollingsworth's art. In Three in a Wagon, Brown and Wet, The Rains, Sleepy Isaac, It Was Cloudy When Evalina Married, and many other paintings the daily life of local black people gave his work a refreshing spirit.
To his good fortune, Hollingsworth was one of the job seekers who found employment. The Federal Emergency Relief Agency, one of the Franklin D. Roosevelt administration's New Deal programs, hired him as a clerk. The FERA's Jackson offices were located in the brand-new high-rise called the Standard Life Building. He was truly unsuited for this work, but for four years he gave it his commitment during daytime hours. At night he painted.
Painting Mississippi scenes
Encouraged by Jane and by his chum Karl Wolfe, a local artist, he began to sketch and paint subjects in familiar surroundings of home.
"You don't have to live in New York or Chicago to be a painter, Hollie," Wolfe admonished. "You can paint by looking out the window."
It was good advice. What Hollingsworth saw and painted was the rural countryside (Lost Horizon, The Last Time It Snowed, Low River), the black people idling along Farish Street and engaging in ordinary activities (Sudden Shower, Dark Romance, High Farish), and the shadow and light of the Mississippi seasons (Cold Wet Day, The First of December). The lyrical delight in these paintings arises from the reality of the familiar and from Hollingsworth's keen insight that made it fresh and daring. The viewer with a penetrating eye, moreover, senses the touch of sadness even in the joy of the scene, for out of regional materials Hollingsworth chanced upon the profound. Virtually every painting he produced, and indeed The Ice-Covered Tree, reveals that he chanced too upon the signature tone of his work, the sad beauty that surrounds us.
Hollingsworth's wife Jane
Clerking in a confined office became so distasteful to Hollingsworth that he and Jane made an agreement when the FERA closed its operation in 1938. He should concentrate full time on being an artist, painting at home. She would devote herself to making a living while he achieved his goal. This became their occupational arrangement over the next six years. When he made painting his sole profession, he, Jane, and Billy moved into the family home.