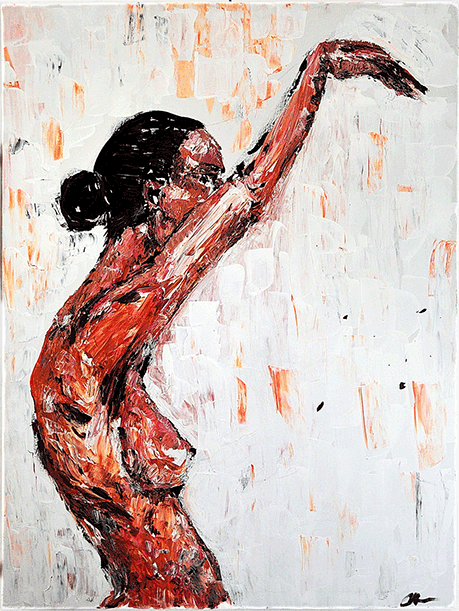 Sage Gallon was born in New York, Long Island. He spent his formative years living in a Com-
mune in Northern California. In 79' he and his Mother moved to Harlem USA where his Mother 
put me in a Catholic school... That didn't turn out well. They then moved to Hempstead NY in 
the spring of 79 where He grew up.





"I guess I have always been an artist, I drew before I could write, acted before I could spell... 
Although spelling is still a challenge. 
 I Self published a book of poetry, Naked Under My Clothes ( I sold over 2,000 copies indepen-
dently), My debut CD Naked Under My Clothes was released in 2015 and we are developing 
the one man stage performance due to premiere this year, I paint ( water colors and acrylics) 
and I am a photographer." 
 Everyone has challenges and dark times... Sage is no different. Sage spent 10 years living on 
the streets, park benches, subway and train stations of NY, DC an LA battling an addiction much 
stronger that He, doing unspeakable things to feed it, but Sage never begged and he never 
robbed anyone. That experience has taught Sage love (for those who save AND those who suf-
fer) strength, how to see beauty in the ugly crevices and empathy, tools that are vital to his ap-
proach to Photography, Poetry and Art as well as how He lives & gives of his life.
" I started shooting because I inherited a very expensive camera (2012) that I didn't know how 
to turn on, I fell in love with this art form instantly. I have not attended any of the prestigious film 
schools or expensive classes, I'm a kinda " hit that button and see what happens" kinda guy. 
Besides I'm an artist and the prospect of Student loans suck..."
December of 2013 Sage picked up his paint brushes again and went to work. June of 2014 
Sage's paintings have been hung by private collectors from Tasha Smith, Mattie Lawson to 
Terez Thorp and Monifah to Robert Downy Jr. Sage's work has also been seen in galleries 
across the country including Art Basel, 2015. Sage is currently Artist in Residence at the Los 
Angeles Dysonna City Art Gallery.
January of 2014, Sage was named as one of the 40 Black Artist to watch in 2014 by NBC's the 
Grio, I was also interviewed by the Huffington Post the same month about his "Crack(s)" 
series... Not bad for a guy who was once homeless right? 
April of 2015 Sage was the Featured Artist of nikkieskies.worldpress.com , Sage was also inter-
viewed by The examiner.com, his work was featured in the Along Came Serenity exhibit at the 
famed Nate Holder Theater in Los Angeles and was twice featured at The Art Speak Easy by 
Shawn Antonio, in Los Angeles. Sage was also the featured Artist in The Boss Mann Magazine.
 
 Naked Under My Clothes was released May of 2015 and has Sage ranked as one of the Top 
5 Artists locally. NAKED UNDER MY CLOTHES is a heart retaking, erotic, sensual and honest 
journey that takes the listener through childhood pains to addiction, from love to self realization 
and spiritual evolution. This is a CD like no others before it. Sage is developing a one man show 
with the same title, to be released soon, in addition to The NAKED UNDER MY CLOTHES An-
thology that has garnished Sage critical acclaim.
"I Can't say that I have won any awards, YET, but I do have the gift of life, shooting, painting, 
creating, sharing and loving what I do. Art, all forms of art, is a spiritual experience a commu-
nion between Higher Power&artist, artist and audience and all back to the Higher Power. I am 
happy to share me with you and hope you enjoy. Peace" - SG