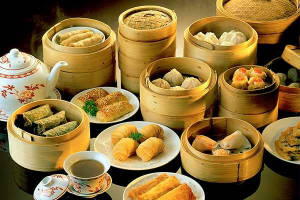 Beijingers Turn to Dim Sum and Tea
Drinking tea in the morning with dim sum is no longer a pleasure exclusive to the people of Canton and Hong Kong. More Beijingers and foreigners in Beijing are turning to dim sum, and for dim sum at a reasonable price with excellent quality, the Fortune Palace in the Kuntai Royal Hotel is a great place on Chaoyangmenwai Dajie to give it a try.
This 98-seat restaurant on the second floor of the hotel features sumptuous Cantonese and Chiu Chau dishes. During lunch time from 11 a.m. to 2:30 p.m., you can satisfy your desires with a collection of authentic Hong Kong dim sum, most of them priced at only 5.8 yuan each. Special discounts apply to one of the Classic Dim Sum dishes each day.
Well-received dim sum servings at the Fortune Palace include shrimp dumpling, shaomai (stuffed steamed dumpling) with crab roe, chicken feet in black bean sauce (which is a must-try) and chicken spring roll. Durian tart is also a favourite of many diners while others despise the strong smell of the dim sum as the tart is made with fresh durian. DTLAL Magazine International


Saudi Arabian
CUISINE
Chicken & Rice
Ingredients
3 cups rice
1 Tablespoon oil
1 small onion, chopped
2 cloves garlic, chopped
½ cup golden raisins
2 Tablespoons tomato paste
½ teaspoon cloves
½ teaspoon cinnamon
1 Tablespoon cardamom (ground, not whole pods)
Salt and pepper, to taste
2 Tablespoons pine nuts, toasted
¼ cup slivered almonds, toasted
Note: To toast pine nuts and almonds, heat a small amount of olive oil in a skillet. Add nuts and cook, shaking the pan frequently, until nuts are golden in color.
Procedure
Measure rice into a bowl, cover with cold water, and allow to soak for 15 minutes.
Meanwhile, cook onions and garlic in oil over medium heat in a large saucepan.
After the rice has been soaking for 15 minutes, add it with tomato paste and raisins to the meat mixture.
Add seasoning (cloves, cinnamon, cardamom, salt, and pepper) and stir to combine. Lower heat and cover.
Allow to simmer for about 10 minutes. Check to be sure the mixture isn't too dry. If there is no more liquid visible, add a little more water (½ cup at a time).
Continue simmering for about 10 more minutes, until rice is tender.
Serve dish garnished with the toasted nuts and accompanied by plain yogurt.

_______________________________________________________

The advertisers at Downtown LA Life Magazine International are chosen for their quality, excellent products and customer service. If you have had a problem or you are dissatisfied with any of our advertisers we would like to know. Please include your name, address and telephone number. Your personal information is required so we may varify your comments. Comments without contact information will not be considered a valid comment. Please send your comment(s) to: dtlalmagazine@yahoo.com
____________________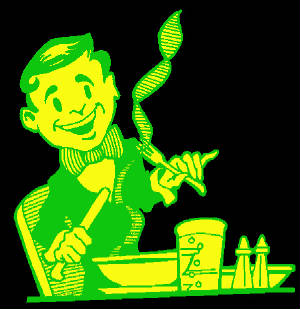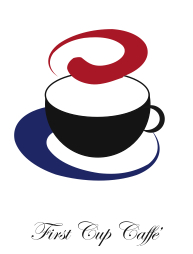 What You Don't Want to Know

At a lot of restaurants, the special is whatever they need to sell before it goes bad. Especially watch out for the soup of the day. If it contains fish or if it's some kind of 'gumbo,' it's probably the stuff they're trying to get rid of.
-Kathy Kniss, who waited tables for ten years in Los Angeles