MAPPLETHORPE & WAGSTAFF
An Uncommon Alliance



This was a symbiotic, deeply emotional and sexual... relationship between influential upper-class art curator collector Sam Wagstaff and photographer Robert Mapplethorpe which started in New York during the heady years of the '70s and '80s. Mapplethorpe had a love affair with Wagstaff which seemed to promote a rapid ascendancy in the art world. With Wagstaff's forceful patronage, international acclaim in art; Maplethorpe was introduced and produced. At the time their romance began, Mapplethorpe was 26 years old 
— 25 years younger than Sam Wagstaff — though they shared the same birth date (November 4), an uncanny characteristic of this duo of this near polar opposites. Mapplethorpe was anything but cultured or refined. He saw himeslf as a sexual outlaw, a street punk amd sex addict.

The men also developed a strong bond of friendship with punk rocker Patti Smith during this period, which was also marked by Smith's 1975 debut album "Horses," her first recording triumph. While Smith and Mapplethorpe edged toward notoriety and sexual outlaw infamy, Wagstaff's personal story is one of profound transformation — from conservative, uptight and sexually ambiguous, starchy, Yale-educated preppy, to downtown habitué, hipster and sexual SM experimentor. Sam Wagstaff and Mapplethorpe enabled one another to discover different parts of themselves, each encouraging the other to mine new territory in the arts — and in their personal lives. Wagstaff's death from AIDS in 1987 — and Mapplethorpe's in 1989 — marked the end of an era. Their collective work continues to have an important impact on present-day art / photography and culture.



SHORT MAPPLETHORPE DOCUMENTARY
BETTER DAYS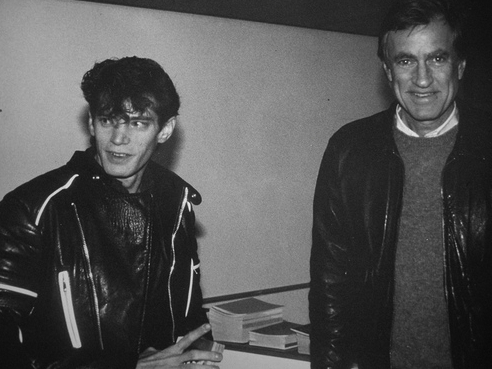 "When I have sex with someone, I forget who I am. For a minute I even forget I'm human. It's the same thing when I'm behind a camera. I forget I exist."