Early life
Born at 2 Podolskaya Ulitsa in Saint
Petersburg, Russia. Shostakovich was the second of three children born to Dmitri Boleslavovich Shostakovich and Sofiya Vasilievna Kokoulina. Though the Shostakovich family through his paternal grandfather (originally Szostakowicz) was of Polish (Litvin) Roman Catholic heritage (his family roots trace to the region of the town of Vileyka in Belarus), his immediate forebears came from Siberia. His paternal grandfather, a Polish revolutionary in the January Uprising of 1863-4, had been exiled to Narim (near Tomsk) in 1866 in the crackdown that followed Dmitri Karakozov's assassination attempt on Tsar Alexander II. When his term of exile ended Bolesław Szostakowicz decided to remain in Siberia. He eventually became a successful banker in Irkutsk and raised a large family. His son, Dmitriy Boleslavovich Shostakovich, the composer's father, was born in exile in Narim in 1875 and attended Saint Petersburg University, graduating in 1899 from the faculty of physics and mathematics. After graduation, he went to work as an engineer under Dmitriy Mendeleyev at the Bureau of Weights and Measures in Saint Petersburg. In 1903, he married Sofiya Vasilievna Kokoulina, another Siberian transplant to the capital. Sofiya herself was one of six children born to Vasiliy Yakovlevich Kokoulin, a Russian Siberian native. Dmitri Shostakovich's family was politically liberal (one of his uncles was a Bolshevik, but the family also sheltered far-right activists).
He was a child prodigy as both a pianist and composer, his talent becoming apparent after he began piano lessons with his mother at the age of eight. (On several occasions, he displayed a remarkable ability to remember what his mother had played at the previous lesson, and would get "caught in the act" of pretending to read, by playing the previous lesson's music when different music was placed in front of him.) In 1918, he wrote a funeral march in memory of two leaders of the Kadet party, murdered by Bolshevik sailors.
In 1919, he was allowed to enter the Petrograd Conservatory, then headed by Alexander Glazunov. Glazunov monitored Shostakovich's progress closely and promoted him. Shostakovich studied piano with Leonid Nikolayev, after a year in the class of Elena Rozanova, composition with Maximilian Steinberg, and counterpoint and fugue with Nikolay Sokolov, with whom he became friends. Shostakovich also attended Alexander Ossovsky's history of music classes. However, he suffered for his perceived lack of political zeal, and initially failed his exam in Marxist methodology in 1926. His first major musical achievement was the First Symphony (premiered 1926), written as his graduation piece at the age of nineteen. - Wikipedia
"A creative artist works on his next composition because he was not satisfied with his previous one."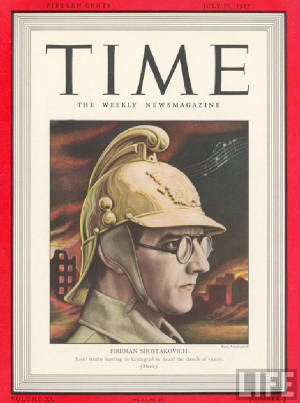 1961 marked a turning point in Shostakovich's life when he decided to join the Communist Party of the Union of Soviet Socialist Republics. He developed a new Socialist realism integrated as a mastering of music and conducting an orchestra.