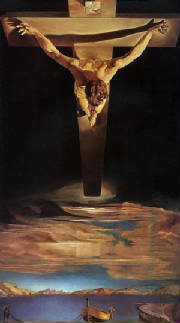 Arte, Romance y Tragedia.

Dos de los siglos 20 más famoso artista y poeta.

Two of the 20th Centuries Most Famous Artists and Poets

Dali and Lorca first met while they were both attending art school. The two artistic powerhouses formed both an intimate and artistic passion for one another.

Lorca

Born on June 5, 1898, in Fuente Vaqueros near the city of Granada, the son of a liberal landowner, Federico García Lorca's creativity would rear its head early. As a child, he was known to carry on conversations with inanimate objects, bestowing upon each object a personality and speaking with them as if they were living things and might speak back at any moment. As a child, he studied music, an activity which enhanced his natural sense of rhythm, and in his late teens, he began to write poems which he would recite in local cafés.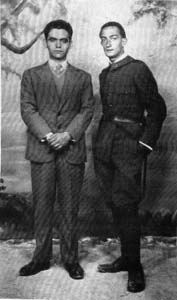 Dali

Salvador Felipe Jacinto Dali I Domenech was born at 8:45 on the morning of May 11, 1904 in the small agricultural town of Figueres, Spain. Figueres is located in the foothills of the Pyrenees, only sixteen miles from the French border in the principality of Catalonia. The son of a prosperous notary, Dali spent his boyhood in Figueres and at the family's summer home in the coastal fishing village of Cadaques where his parents built his first studio. As an adult, he made his home with his wife Gala in nearby Port Lligat. Many of his paintings reflect his love of this area of Spain.

The young Dali attended the San Fernando Academy of Fine Arts in Madrid. Early recognition of Dali's talent came with his first one-man show in Barcelona in 1925. He became internationally known when three of his paintings, including The Basket of Bread were shown in the third annual Carnegie International Exhibition in Pittsburgh.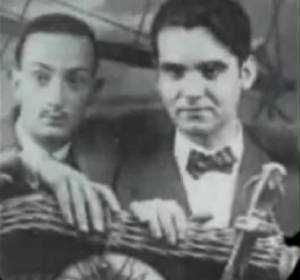 DALI & LORCA
The History They Don't Teach
There was an odd if not curious nature to the two men's attraction to one another; perhaps because the enigmatic Dali found it all-important to figure out those things in his environment of an unknown quality, Lorca filled that category nicely. In Lorca, Dali saw a strong masculine, forceful and artistic supporter, with avant-garde views and most importantly Lorca was not a real competitor to Dali's overly vain and demanding nature and temperament. In highly homophobic 1920's Spain, the life of known homosexuals would be coarse and brutal, often killed in jails. The early art school behavior between the two was at first demure and circumspect in matters of homosexuality. For their own safety they were part of the new Republicans coming of age. (Socialists – anti-monarchists – anarchists, poets, artists and political organizers) And working in either the spoken word or through pigment Dali and Lorca did help define an entire cultural movement in Spain, and in Dali's dada-surrealism a world cultural event. Static, conventional art would never be the same.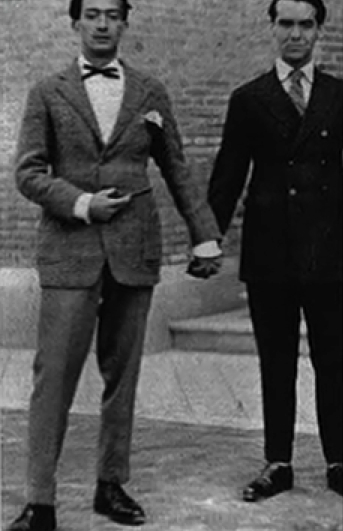 Lorca became one of the poets of Socialist Republican Spain, which in the end would seal his death after Franco took over Spain by force. Lorca was captured by the Spanish fascists, made to dig his own grave, and then with other patriots was shot. Dali had already by the Civil War moved from politics and on to other men and a very important woman who was the handmaiden of Dali's success. Dali was never timid about his homosexuality but his interests were not just physical but a process by which he tried to insert his lived experience through another, as mineral, vegetable or human. I believe you can see that especially strongly in his later surrealist works.
Don Noyes-More Ph.D., Editor in Chief.
Romance De La Luna

La luna vino a la fragua

con su polisón de nardos.

El niño la mira mira.

El niño la está mirando.

En el aire conmovido

mueve la luna sus brazos

y enseña, lúbrica y pura,

sus senos de duro estaño.

Huye luna, luna, luna.

Si vinieran los gitanos,

harían con tu corazón

collares y anillos blancos.

Niño, déjame que baile.

Cuando vengan los gitanos,

te encontrarán sobre el yunque

con los ojillos cerrados.

Huye luna, luna, luna,

que ya siento sus caballos.

Níno, déjame, no pises

mi blancor almidonado.

El jinete se acercaba

tocando el tambor del llano

Dentro de la fragua el niño,

tiene los ojos cerrados.

Por el olivar venían,

bronce y sueño, los gitanos.

Las cabezas levantadas

y los ojos entornados.

¡Cómo canta la zumaya,

ay cómo canta en el árbol!

Por el cielo va la luna

con un niño de la mano.

Dentro de la fragua lloran,

dando gritos, los gitanos.

El aire la vela, vela.

El aire la está velando.




___
Thank You to the Following:
The Dali Museum, St. Petersberg FL.
( http://salvadordalimuseum.org )
The National Museum of Contemporary Art
The Los Angeles Central Library
The Hirshorn Museum, Washington D.C.
Librería Garcia Lorca
Wikipedia