CANTER'S DELI:

COMING OUT IN LA

by Dr Don Noyes-More Ph.D.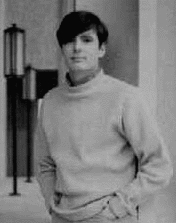 DON NOYES MORE 16
READ ANOTHER STORY (13 Collected Stories In All) FROM DR DON!
Canter's deli has been a Los Angeles landmark of no small fame for a very long time. This is a special place that has touched many people's lives. It's a large "Jewish" deli, well sort of; they now serve ham and bacon, - catering to the stars, the not so famous, those who want to be seen, and those who enjoy a good corned beef sandwich. It's been a late night gathering spot for some of the oddest assortment of "Hollywoodies", including actors. Everyone sooner or later made it to Canters Deli on Fairfax Avenue. I did too.

A late 60's LA Summer: weekends my friends and I would go cruise the "Strip", Sunset Blvd. We were too young to get into the Go-Go clubs so we would walk the street and cruise, and watch the parade of people in front of Pandora's Box, a dance club. We always ended up at the Fifth Estate Coffee House. We tried to look cool in our surfer cut hair, and leather fringe jackets. We thought we were very "boss," "bitch'in," "cool," "far out," "in," and "Fab." Awww, that's what we thought. We were just kids.

About 1AM we would head for Canter's Deli for a corned beef sandwich and just hang out. One night my friends, Bobby, Steven, Kenny and I were sitting in a big booth. As usual we were all laughing and doing the butthead kid things you do when you've run out of anything to talk about. Some of our antics were table chemistry. How much glop can you make from the table condiments, very stupid stuff.

Across the room that night was a tall black man with a shaved head. With him was a Latin looking man with a hat and dark glasses. Both of them kept glancing over at our table. After a half hour the Latin looking man got up and left. Then the black man came walking over to our table. We became concerned. "We in trouble for something?" Kenny asked me. "Naw," I said, "Just act cool."

"Hello, I'm Phillip." The tall black man was gazing down upon us. "Do you know who I was sitting with?" He said with a smile. We just shrugged our shoulders. "Sal Mineo! Sal Mineo." He repeated again. This made little impression on us. This was no rock and roll star. I did see him on the teen show Shindig once. We knew his name but, so what! "Sal would like to invite you over for drinks or something," he continued to smile. "Naw I don't think so," piped Bobby. "Nope," I said turning my head away. Phillip laughed. "This is just a friendly invitation, no hassle, it's cool, dig it?" Kenny spoke up, "Maybe next week, same time, I'll be here, maybe all of us." We all looked at him at once. Did he really say "Next week?" On the way home that night it was a little quiet. "You really going to do that?" I asked. "Yeah, why not? He's a star and asking us to visit? Let's go, OK?" "Yeah, maybe." I answered. It did not feel right, but hell this was Hollywood. I grew up here. I was not Star struck by this invitation since at the time my brother Bill was a movie agent and I met many stars by just hanging around his office at GAC, or going out with him. Every Saturday Bill and I were always at the Hamlet on Sunset Blvd, after my Judo lessons. Stars and important movie people would join our lunch. The Hamlet was the place to be seen in those days and my brother was very much into being seen by others.

A couple weeks rolled around and the four of us were back at Canter's having coffee at 2 AM. We were talking and cutting up when out of nowhere Phillip came up to the table. "Hi! How you guys doing?" "OK, what's up?" Steven asked. "You guys want to come over, I'll make some breakfast or we can have some drinks with Sal?" "OK," Kenny answered. What the hell I thought. We all climbed in a large black limousine, Phillip was driving. We were driven up into the Hollywood Hills when we came upon an older Spanish style home, not a mansion but a large home. When we walked in I smelled something sweet in the air, "What's that smell," I asked Phillip. "Oh, Sal's doing a joint, you want some?" He asked. "Sure" I snapped back.

We all walked into a massive sunken living room with wrapping verandas and beautiful vistas of LA. There were large sofas all around the room and bench couches on the picture windows. Phillip left us there talking and walked in a few minutes later with drinks, he called it "punch". I took a sip and felt it burn all the way down. We began talking and laughing and drinking. Phillip lit and passed a joint, "Here take a hit," he said to me, "cool," I said. I passed it to my friends who took deep "hits" from the joint. Phillip walked over to the stereo and put on a Rolling Stones album. Things began to rock and roll. It was a real party now. We were all laughing and acting very stupid.

A few minutes later Sal Mineo walked in with a blond boy. Both were laughing and making funny faces at each other. Sal caught my eye and walked right up to me leaving his friend behind.

"I'm Sal, glad you could make it." He just kept staring at me with this big smile. I knew I was something special, well sort of. At fifteen all you want is attention. Sal ignored my friends. They were off to one side of the room half naked and smoking dope with Phillip and that blond boy, Lonny.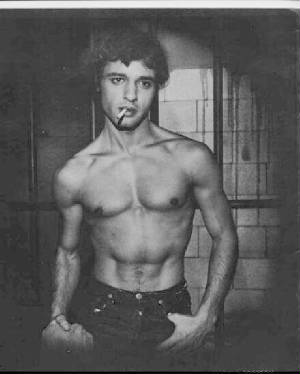 SAL MINEO
Sal was paying a lot of attention to me. I enjoyed the attention but could have cared less what this all really meant; I was in the stoned and drunk zone. We discussed politics and civil rights and all sorts of topics. Sal seemed really interested in my ideas and I felt so very important, as important as a kid of 15 can be. He mentioned how lonely he was and wanted to find someone to settle down with. Inmy mind I thought he meant a wife. OK, stupid me! I continued to drink. I looked across the large room and noticed that Kenny was gone. Lonny, the blond kid, was gone as well. Where? The rest were laughing and up dancing by themselves to the music. I kept hearing over and over in the background Steven saying, "Groovy man, way out," laughing and dancing. Then out of nowhere Sal leaned over to me and ran his hand through my hair, "Nice hair, you're a very good-looking boy, the girls must love you." I didn't answer. I thought, "Oh my God this old guy's after me." Anyone over 25 was suspect and old. Sal placed his hand on my leg and started rubbing it. I was starting to get sick,… from the alcohol.

I started to "haze out" from the drinks and pot and finally got sick and vomited. Sal put me on a couch covering me with a blanket and a big bowl next to the couch, just in case. He then put a cold washcloth on my forehead and said, "This one can't drink and toke." I fell asleep to loud music and laughter before passing out.

The next morning I woke up and looked at my watch. It was 9AM. I looked around the room, my friends were scattered on the living room couches, all except Kenny. "Oh shit, dad will kill me," was my only thought. I yelled at Steven and Bobby, "Where the shit is Kenny?" I yelled. "I don't know". Both responded. I was putting on my jeans when Kenny walked in with the blond kid, Lonny. "You been up all night"? Steve asked Kenny. "Just the better part," he shot back. Sal walked in wearing a man's short kimono jacket. He came up to me and said "You feeling OK?" "I'm OK," I said. "You're groovy man, Groovy, come back soon." I remember at the time thinking, "what a dumb thing to say!" Phillip walked in and said he was ready to take us back to our car. I was shaky on my legs, still half drunk, and really worried about what I was going to tell my parents. We were all worried.

Kenny was very quiet driving us home. He was saying nothing at all. He brought us out the night before so he was taking us all back. I was still too young to drive. He dropped everyone else off first. We all agreed to say we went to the beach the night before and fell asleep. "I want to tell you something." Kenny said stopping the car in front of my house. He looked worried. "I made it... with that guy Lonny, last night," he said slowly. "You screwed him?" I asked. "Yeah, I did." "Really, you guys, the two of you, had sex, together?" I asked. Kenny just sat there not responding. I wasn't sure what to say. I was quiet for a long time. "You know it's cool with me", finally popped out of my mouth. "We'll always be friends, no matter what Donnie", Kenny said slowly. He smiled at me and reached over and gave me a hug and a kiss on the cheek. I felt honored Kenny chose me to "Come-out" to.

Afterword:

A few years after I met Sal Mineo I read an article in a Hollywood throwaway paper about a play: men in prison. Sal was the star of the play and directing it at a local Hollywood playhouse. The play got good reviews even though it was about male prison rape. The star with him in the play was that blond kid "Lonny."

Kenny and I never saw one another again after that summer. He and his family moved away. We called each other off and on for a few months but drifted apart. In 1985 a friend told me that he had spoken to Kenny. Kenny had opened a movie poster shop in Hollywood. I gave him a call a few times and we chatted and laughed like in high school days. We talked about our early days of running around Hollywood and about what happened to mutual friends. Kenny laughed with me about his first sexual experience with Lonny, "Would anyone believe it?" He asked. "I doubt it, he's too big of a star." I said. We both started to almost cry from laughing. "Donnie, you were like at my "coming out."

I told Kenny many times I'd visit him but never did. At the time I was living in Northern California and LA always seemed a long way away. Every phone conversation we had ended with "you know I've always loved you Donnie." I knew. The last time I spoke with him he said he had the flu. We only spoke a few minutes. He told me something he had never told anyone else in his life, something he had held deeply inside of himself. When he was 17, 5 men just off of Santa Monica Blvd had raped him, near the Beanery. The rapists were all white teen punks looking for trouble. He had to go to the hospital for three days. A wave of sadness came over me with this story. Kenny was ashamed of what happened to him. During all our long talks Kenny never told me he was ill. I had spoken with him only a few weeks before his death. "Donny this flu is just hanging on bad," he had said to me. He died of AIDS in 1987.

He has been memorialized on one of the AIDS quilts. Kenny's dad, who had been with MGM Studios for 35 years, had died a year prior to Kenny. With the two deaths so close together, it crushed his mother. No one was left. "Don", his mother said to me on the phone, "the world is now dead for me, be good, I go now," and she hung up the phone. She died 2 weeks later. Memories were passing.

I never saw Sal Mineo again after that one night. The papers said Sal was killed scoring dope or trying to pick up a guy, or possibly both. They caught the murderer, he was a pizza deliveryman, Lionel Ray Williams, and he was sentenced to 57 years in prison for killing Mineo.

I have seen Lonny on TV and in the movies for years now. Now divorced, now married. At this writing he's got another TV program and always has a woman on his arm. I still laugh every time I see him on his old TV series from the 80's.

A few years ago I ran into an old friend from high school, he told me that Bobby was killed in Mexico trying to score dope in the late 70's. He and I had lost contact about a year after high school. He had been accepted into Harvard. I guess Harvard led to drugs. He left school after a little more than a year and had returned to LA.

Steven's sister and I met in San Francisco about 1982. She said Steven was married, had two boys, and was a minister in Orange County, California. "Oh my God", I thought to myself, "He's Republican!" I gave her my card and asked her to give it to Steven. I never heard from him. I fully understand why. Steven and I had been exceptionally close throughout high school.

Year 2001 - 1AM: one rainy LA night: I went to Canters just to see what it was like after so many years. It was a personal journey for my friends and I. The first thing I noticed, there was no cigarette smoke. But the feel of the place was the same. The waitresses looked the same. The plates of food looked the same. The young people trying to look cool, looked the same, but I was not the same. My friends and I were not there.

I ordered 4 corned beef sandwiches, hot mustard, 4 cokes and two orders of fries. In my shirt pocket was a picture of us four; we were 15-16, all with big smiles and a future ahead of us. I ate my sandwich, drank my coke, and nibbled on the fries. A million memories came slamming into my head. I pulled the picture slowly from my pocket, kissed it and placed it on the table. Just for a moment I felt we were all together again, only a moment. Then I got up, paid the bill, and walked out into the rain.

I have never returned to Canter's Deli again.