Authentic Mexican Taste,
Quality Ingrediants, and Love.
Auténtico Sabor Mexicano, Ingrediants Calidad, y Amor.
Now Featuring Vegan and Vegetarian
specialties we know you'lll love!
GRILLED SALMON WITH MANGO SALSA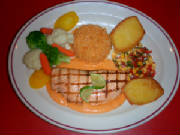 CLICK TO ENLARGE PHOTOGRAPH
The owners of Costa Alegre, Vanessa and Edgar Pedraza, consider each customer a new friend. They are warm and inviting people with a love of food and good times. They put an empahasis on fresh homemade sauces and traditional preparations that reflect the values of the best in Mexican cuisine. They offer an exciting variety of dishes with an emphasis on fresh seafood. The Grilled Salmon is Vera Cruz level Mexican seafood cooking with a Spanish twist. Served with a gournet Mango Salsa. Also be sure not to miss the home-made, tender, mouth-watering Empanadas, in beef, chicken or fish.
A breakfast, lunch, or dinner at Costa Alegre is also an amazing value. The restaurant is casual and friendly with a lovely patio area; perfect for a glass of Sangria and delicious appitizers after work with friends. This is the perfect venue for that Sunday Brunch with a real difference; Taste. Perhaps the best value and the highest quality Mexican restaurant in Greater Downtown LA. Taste the magic of Mexican cooking. Experience the reasons people keep coming back again, and again. ˇBuen Provecho!
Costa Alegre Restaurant
1901 W Sunset Blvd, Los Angeles, CA 90026
(213) 484-6121. Credit Cards - Easy Parking.