CONFUSION &
DEATH SELECTIONS CONTINUE
WAITING TO DIE
In the photographs to follow
none of the people shown survive.
(Above) Waiting their turn to go into the gas chamber.
(Below) Brothers walking together towards the gas chamber.
These are the last photgraphs of these children.
Moments later they were all gassed.
ROMANI CHILDREN (GYPSY)
DEATH
& Worse
NAZI MEDICAL EXPERIMENTS ON CHILDREN.
ROMANI CHILDREN
Perhaps more that 1.3 million Jewish children died at the hands of the Nazis during the Holocaust, thousands others were Romani Gypsies. The Germans saw children as too small and too weak to work, they sent them directly to the gas chambers once the Final Solution began. Other children died of starvation or disease in ghettos; many were subjected to torturous medical experiments.
NEVER AGAIN?
Again and again
and again and ...
SERBIAN WAR 'CAMP' CHILDREN
1990's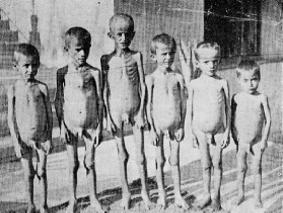 This is what we humans do.
--------
We would like to thank the following for contributing to this presentation.
Stephanie Comfort,
Jewish Historical Archive Curator
and consultant for this program,
The Los Angeles Library
The Library of Congress
Yad Vashem Memorial
The United States Holocaust Memorial Museum
Children of the Holocaust Project
Stories: The Children of the Holocaust
German State Archieves
Polish State Historical Photos, Warsaw, Poland
HULU Television
Russian Federation Archieve:
History of the Great Patriotic War - Vol. 24.a.8
USC SHOAH FOUNDATION INSTITUTE:
(University of Southern California)
A Special "Thank You" to Jim Lynd for his editorial support.
In Memory
Ruth Stern and Family
and to all those that died in this human tragedy and evil.
"I will remember."