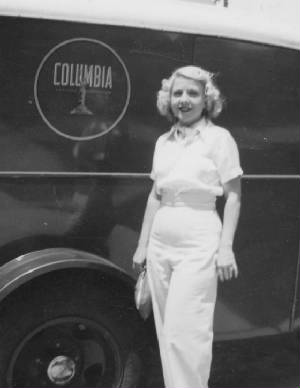 "Burla" Don's Grandmother on the Set @ Columbia Studios
DON NOYES-MORE, Editor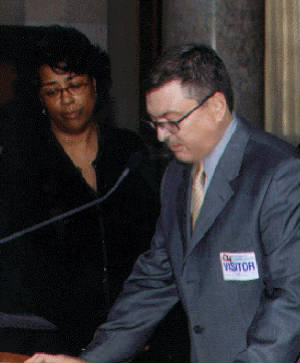 Don before the City Council presenting the Downtown Service Award w/ LA Councilperson Jan Perry
AWARD WINNING AUTHOR


DON NOYES-MORE, Psychologist, (not presently in practice), Author, Activist, 4th generation Angelino, and Editor of DTLAL Magazine, was born in Pico-Union when it was an Italian and Greek neighborhood. Don's family came to Los Angeles in the mid 1880's and settled between Downtown and next to what is now USC. Don's great-great grandfather had a water development business in Downtown for many years. Don's father's business once occupied a business suite at the Bank of America building for 12 years, (then known as the Security Pacific). Don's father is also an artist, he has (avocation), been an artist since 1961. The family has been in the movie industry for more than 75 years.

USF Conference on 3rd World Economics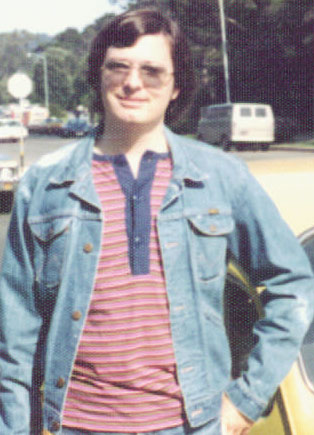 Christian Socialist Activist 1976-78
Don's Mother Near Downtown LA.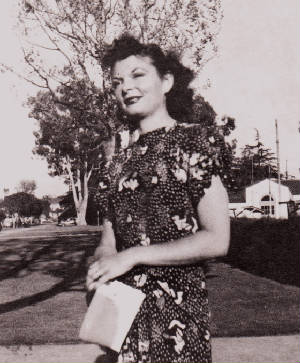 His mother, Lillian, was fully Native-American; Cree-Cherokee. The mixed parentage of Native-American and Caucasian has given Don many insights into the dynamics of racism and exclusion of People of Color from society and opportunity. Don's Native American grandfather James was a railroad bridge and tunnel architect, and his grandmother Marie was a psychiatric registered nurse.
A FAMILY TRADITION OF

PROGRESSIVE PHILOSOPHY & ACTION


He counts among his family's past notables John Noyes, US Congressman 1815, John Humphrey Noyes, founder of the Oneida Community in the US, and Don's family opened one of the very first secondary integrated schools in America in 1835; The Noyes Academy. The Noyes Academy was in Canaan, N.H., Canaan, a small town 20 miles east of Hanover. In 1835 it was home to The Noyes Academy, an institution founded on the idea, revolutionary in pre-Civil War America, that African-American's had the same rights as whites to formal education. The school was burned down by those unfriendly with the concept of equality, an American tradition.

A PUBLISHED AUTHOR:
He's written for California newspapers and magazines for 27 years as an avocation, and is the author of "California Boomer: Keeper of the Story" @ Amazon.com. Don's second book, "A Walk Into Grace" will be published in 2009.


"Proudly Socialist"
PEACE & FREEDOM: Constant Themes in Don's Life


He joined the Peace & Freedom Party at 18, and has had a life filled with social action, struggle for peace, justice, and equality. Don was organization co-chair of the Catholic Socialist Youth Brigade (1974). He helped organize and open a free food pantry/market for the Catholic Worker Community in East Oakland, California (1980-1985). Don organized "free" markets and a "gleaning" project which harvested fruit and food from the urban and suburban gardens for the poor and hungry.
WEB DuBOIS CLUB ORGANIZER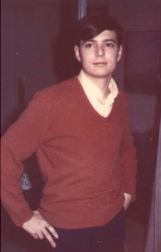 FOR HIGH SCHOOLS
In 1980 Don changed his name to reflect his deeply held religious and political convictions, his new middle and last name, "Thomas More" is the name of an English Catholic Martyr and Saint. Don writes under his family name, Noyes, and his religious name More, thusly Don Noyes-More.
Working for the People


Organizing with a number of progressive Social-Catholics, Marxist groups, and peasant worker unions, Don helped organize non-violent peasant liberation actions (land occupation), in Mexico and Guatemala during the late 1970's and 1980's as part of the philosophical and political: Liberation Theology Movement.

Early political work included activities/memberships in, Students for a Democratic Society (SDS), AIM, (American Indian Movement), C.O.R.E, (Congress of Racial Equality), and Venceremos. He was focus organizer for high schools for the W.E.B. DuBois Club in Los Angeles, (The first mass youth demonstrations against the war in Vietnam were organized by the DuBois Clubs. The DuBois Clubs also became an active participant and leader in the civil rights struggle.)

Don's educational background; a BA Medical Anthropology, a BA in Theology (Minor: Pastoral Counseling), M.A. Family Psychology, and a Ph.D. in Clinical Psychology. Specialties included Thantology (Death & Dying Studies) and work with Dr. Charles Garfied in the proto-Shanti Project (patient population: children dying of cancer).

MY FAMILY: A SMALL PORTRAIT OF DOWNTOWN HISTORY


(Below) My family c. 1902, Downtown, Los Angeles. The two older persons sitting are my great-great grandparents. My great-great-grandfather had a water development business he ran out of his downtown office. The baby is my grandmother being held by my great-grandmother. The pretty girl in the front is my great-aunt Flossie, who I write about in my book, she wrote for the movie westerns, - to her left the little boy is my great-uncle Boyd, he became a Socialist union leader. The rest are great-uncles and aunts. They all lived in or just south of Downtown. I have all their stories about early LA. The family had a summer home in Topanga Canyon, considered "way out of town." For a number of years (mid-30's), my great-aunt Flossie had a ranch out in Riverside.
THREE GENERATIONS @ THE BEACH
(L-R) Don's Dad. "PaPa" (Don's grandfather holding Don @ 8 months),) & Billy (Brother).
With my son Eric (5 y/o)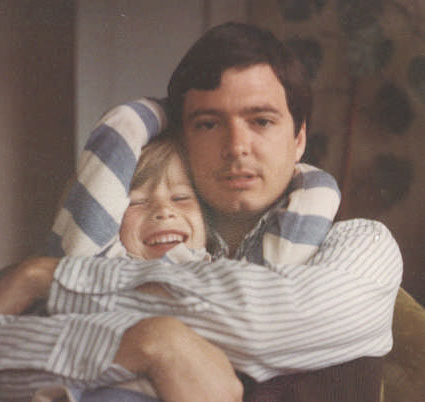 7am getting ready for the family "Field Trip."
Urban Economic Reform Activist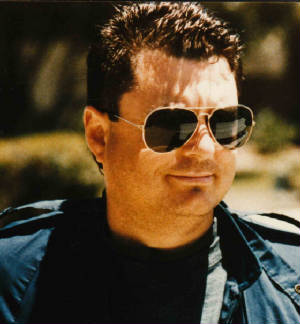 Socialist Planner 1986
Don's son Eric, 25, is residing and at post-graduate studies in London, England. Eric graduated from the University of Southern California.

Don was Executive Director of Sales and Marketing for a major communications, voice recognition, translation (MT) software company. For a business television station Don was responsible and instrumental in the launching of new digital satellite business programming and television productions nationally, (Primerica Network, CNA Network, Realty Executives Network, The Builders Channel, RealNet DirectTV, Century 21 Network, Law View TV, HRTV, and Prudential Network.) He has been a guest on a number of nationally televised programs. Additionally for 12 years Don was Director of Counseling Services for the Howard Institute of Human Sciences in California. In Downtown Don was Director of Corporate Giving for School on Wheels in Downtown Los Angeles.

BEACH FOOTBALL BEFORE LEAVING FOR CHIAPAS
I WAS WITH THE ZAPATISTA INTERNATIONAL VOLUNTEERS.
IN DOWNTOWN LOS ANGELES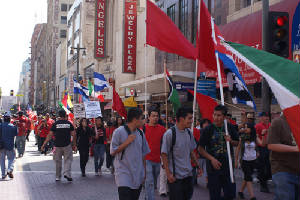 Marching with Socialist Comrads. Click.
He writes about the people of Los Angeles and California, in a personal and moving manner that has layers of meaning and emotional content. You never know for sure where his stories are taking you, there's always a twist or turn that catches the reader a bit off guard.

Always non-dogmatic, highly focused, dramatic, and caring. His greatest gift according to him is how he uses his spirit filled life in the service of others, human and animal. Don believes deeply in the holiness of life and is a supporter of children's rights; born and unborn.

Don and his partner of nine years live in Downtown Los Angeles.

He quotes this journal entry from a dear and loving friend often:

The 11th Commandment

Fill your mind

with patience and kindness,

your mouth with praise,

your heart full of songs,

your belly

full of laughs,

and make all the deeds

of your hands,

acts of love, support,

and affirmation

of truth, justice

and holiness.

RMM March, 1999

- Anna Maria Lopez, Uban Affairs, DTLAL Magazine

"...it should be noted that Liberationist Christians have not been mere cheerleaders in the revolutionary process in Latin America. Many have taken up arms, or materially helped, many have risen to important positions, others run key government ministries. In so doing they have played a major role in shaping the very character of the revolution."
- Andrew Reding, from: Religion & Revolution